"Our goal is simple, to create a superior cutting surface that is beautiful."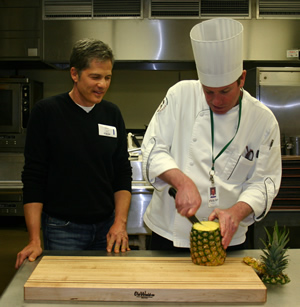 Owner Jeff Mathews at a demonstration with Phil Anderson, Executive Chef of Harris Teeter
Old World Molding Company has mastered the art of creating the finest cutting boards on the market. Each board is hand made in North Carolina by skilled craftsmen of American materials. We start by selecting only the most premium wood available. We handcraft each board knowing that it will be showcased in your kitchen. We are proud to maintain a Green business using all food safe materials. We meet and exceed the industry standards by offering a thicker more durable product that will last for years. Our goal is simple, to create a superior cutting surface that is beautiful.

History
Old World Molding Company was founded in 1996. Before starting OWMC, Jeff Mathews utilized his engineering degree in the areospace industry having the responsibility for all of the F-16 manufacturing coproduction in Europe as well as the development of the F-22 Stealth fighter. His passion for woodworking and art was the reason for developing OWMC. This company quickly became well known in the luxury home market for its precision that starts from manufacturing all tooling in house and then producing the highest quality, most innovative wood moldings. The cutting boards became an efficient and artful means to utilize excess wood into a very desirable gift. Charity auctions, customers and friends have embraced Jeff's creative genius and the evolution of his cutting board line. Why settle for ordinary, when you can have extraordinary in your home!

Giving Back
Old World Molding Co. believes in giving back to the community, partnering with such organizations as the Charlotte Rescue Mission, Mooresville Christian Mission, MS Society, MDA and the Second Harvest Food Bank. The excitement that the cutting boards have received at many silent auctions through the years is a large reason that the Cutting Board business began.